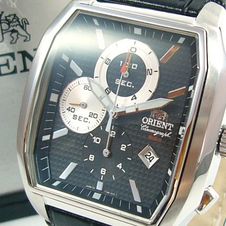 Manufacturer
Methods of payment
Terms of payment
Shipping
Terms of shipping
ORIENT fashionrn Styling quartz chronograph 1/20 Sek. Stop CTTAD002B0
Article-Id: 857
Article number: CTTAD002B0
EAN:
Product details
ORIENT fashionrn Styling quartz chronograph 1/20 Sek. Stop
"...made of der fashionrn Styling Serie, watchesdesign welches Wegweisend for die Zukunft ist"

Ref: CTTAD002B0
- movement: KFB00 ORIENT quartz Chrono
- hours, Minute, Sekande (small second dauerhaft to 9)
- stopwatch 1/20 Sekanden (Totalisator to 12 läuft beim Stoppvorgang)
- Stoppsekande (bigr second hand)
- display der gestoppten minutes and hours (to 6)
- leather bracelet with pin buckle
- for wrists up to 22 centimetre (1 cm = 0,39 inches) circumference
- 50m water resistant according to DIN standard 8310
- mineral glass
- watch dial black
- stainless steel case
- weight: ca. 73 grams (1 gram = 0,035 oz)

scope of delivery: box and papers

length - 50 millimetre (1 mm = 0,039 inches)
diameter - 41,3 millimetre (1 mm = 0,039 inches)
height - 11,8 millimetre (1 mm = 0,039 inches)
bracelet width - 21 millimetre (1 mm = 0,039 inches)

Bei ORIENT werden watch and movement noch selbst gefertigt. Es darf also with Recht von a Manufakturkaliber gesprochen werden. Die movemente sind hochwertig and with höchstem japanischem Standard gefertigt. ORIENT wurde 1901 als Großhandel gegreendet, and fertigt in Tokio eigene watches and movemente seit 1950. Es handelt sich hierbei also nicht um eine der "newn" Marken. Das Design der watches darf in der Regel als klassisch bezeichnet werden.
Heute ist SEIKO with round 52% Mehrheitseigner der ORIENT watch Cwithout, Ltd. was for die hohen Qualitätsstandarts von ORIENT watches spricht. Sie werden dies selbst merken wenn Sie eine ORIENT watch von uns erwerben!